Here is a little interview I did with Stika the other week; He is a great friend of mine and very talented bloke. It's his first solo show next week, so all go support, look at some wicked art and drink some free booze! You know you love it…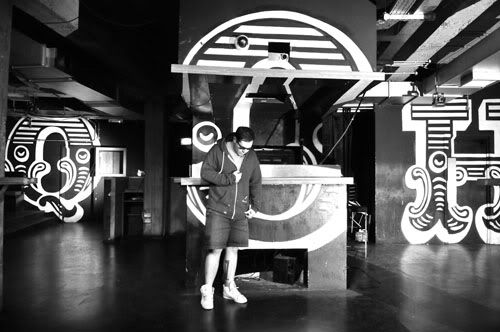 Where are you from, Where do you rep?
Well, if you really wanna go into it I'm from a sleepy little fishing village on the south coast that seems to spawn an untold amount of mega creatives... But really if I'm honest I'm reppin the UK.. Ya know, this world has got too small to start throwing out statements like 'let's hear it for N16', no one cares!

Describe the art you make?
Bashy?! Nike colour-way driven typographic waffle statements. Graffiti writer turned art school grad?!

Last person you made art with/for - latest commissions?
The last commercial painting I did was for the DJ Shadow tour, it was just a few little characters that got animated later on, no biggie, but it was pretty cool to hang out with the geeza for a couple of days...

Tell us about your next exhibition?
I'm really excited about the forthcoming show at Number Six... The work is a showcase of all my recent typographic experiments and ralisations.. Type is trending hard right now, but I cant think of a typography show I've ever been to that hasn't just been ex graphic design students taking themselves too seriously and clearly spending half their time 'aligning' things when the should be coming up with smashing ideas. The show is split up into three sections: Individual letters, which are really fun A3 cut outs, Phrases accumulated from great team players like Raffle Mafia and associates, and Graffiti, that I've treated in the same way as the more serious pieces,cut them out, hand coloured and layered them up...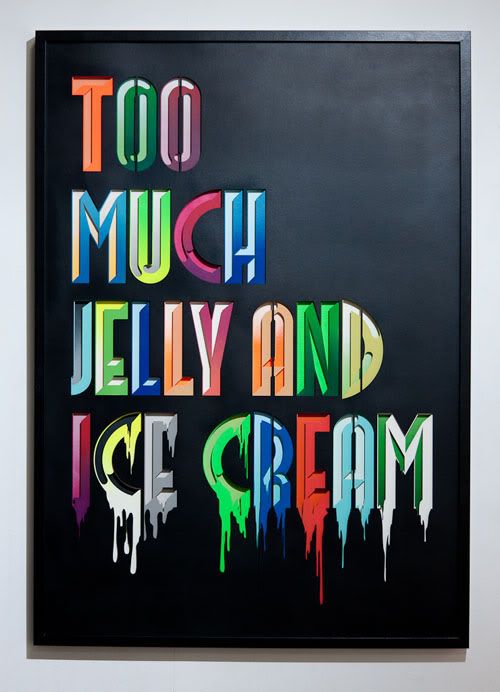 Who/what are your Influences?
My brother has got to be one of the most inspirational people you could ever meet... You probably think I'm just saying that because he's my bro right, well check this out HERE.

Then there's all the others along the way, Aroe and Gary for teaching me how to paint when I was a youngen - still find their work inspirational now..Roid for being the only person to make graffiti that I am actually 'jealous' of! And then my crew, my pals... Without the highest of high level banter and conceptual party ideas and formulas where would I be?

What music do you make art to?
When I'm working I like listening to my friends' mixes... Noisses, Klose One, all the ATG gang, Urban Nerds fam, Maxwell House and Smash Hits and of course bits from the guys at Flash Fry Records!


Favorite item of clothing you own?
It's a toss up between 2 jackets, both of which cause all a little storm amongst trainer heads out there everytime they have an outing. The first - Nike windrunner, half beige suede, half fake white fur. Don. The second - A leopard print Jeremy Scott for adidas number. Equally as Don.

Your five needs to get high on life?
Drama - not the subject at school.
Berocca
Finished paintings
Fire engines
Letters.
Favorite meal ?
I literally eat everything and enjoy it all equally as much. I actually feel sorry for people when you sit down in a restaurant and they're like, "argh, cant eat mussels they're like boogies from the sea", haha

Drink of choice?
Addicted to orange squash.

Is it better Never, than Late ?
"Dunno, can I give you that answer next week sometime..."

What's set for the next 6 months?
I'd like to go over to Vegas to work on a collab with my brother... That guys work is just too much... I want in! I'd also like to start prepping for another show, I'm still gagging to do a whole show in the dark with everything glowing and neon..


STIK A ROCK
6 till 9
27.10.11
@ Number Six Dray Walk

TWITTER @STIKAROCK
WWW.STIKA.CO.UK